Put Your Data to Work: 52 Tips and Techniques for Effectively Managing Your Database (E-book)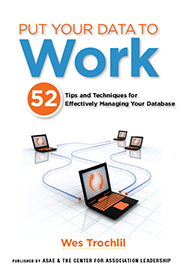 Product Information
Description
At the heart of a data-driven organizational strategy is dependable data. And data will only be dependable if it resides in a reliable database--one that is well-managed and understood by not only the IT staff and the membership department but by everyone who uses it. In
Put Your Data to Work
, membership database wiz Wes Trochlil gives us a user-friendly guide to better databases. Among the practical advice found in his 52 tips and techniques:
Banish data redundancy--and its ugly aftermath.
Seek and destroy shadow databases.
Test early. Test often.
Pursue success, not perfection.
Open the database--once and for all.
Query your database. Use the answers to refine strategy.
It doesn't matter whether you're the CEO providing the vision of what will be important to your community in the future, and therefore what data should be captured, the chief technology officer with overall responsibility of your information management systems, or the marketing or membership director, both of whom would undoubtedly benefit by knowing as much about your members as possible, implementing the sound tips in Put Your Data to Work will help your organization operate more efficiently.
(2009, ISBN 0-88034-307-9, 60 pages)
As a CEO, I'm not involved in the nuts and bolts of managing our database, but data is one of our greatest assets. This book made it easy for me to understand how investing in good data practices strengthens the whole organization. -Mary Pat Paris President and CEO International Registration Plan, Inc.
This book is also available as a softcover book.