Chief Marketing Officer Compensation Table (PDF)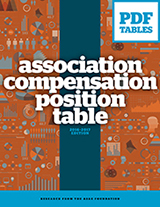 Product Information
Description
Position Description:
Plans, directs and executes the organization's strategic marketing plan to ensure an accurate, consistent message in its marketing initiatives. Has overall management responsibility for marketing publications that support functions, events, and publications directed to members and communities, customers, markets and industries. May research and select market research tools that assist customer service, sales and marketing functions in targeting appropriate niche markets.
Extracted from the
Association Compensation & Benefits Study, 2020–2021 Edition
, this file provides compensation tables for the Marketing Chief position. Obtain benefits data by purchasing the entire study.
Click here
to learn more about the methodology of the study, the sample size, response rate, all the tables covered in the study, and more.
Order now and get immediate access to compensation data for this position organized by membership type, budget and staff size, IRS tax status, and more.
Note: This product is a downloadable PDF file. After your purchase, you will be presented with the PDF for download. You will also be able to access this PDF for 60 days from the date of purchase in the 'My Downloads' section of your ASAE web profile.
(2020, PDF, 5 pages)