Communications/Public Relations/Public Affairs Specialist Compensation Table (PDF)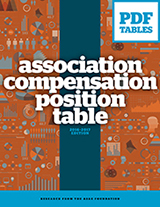 Product Information
Description
Position Description:
Responsible for one or more aspects of the communications and/or public relations plan, e.g., media relations, membership communications, on-line/web page activities, and/or association profile. May provide assistance to the spokesperson for the organization.
Extracted from the
Association Compensation & Benefits Study, 2020–2021 Edition
, this file provides compensation tables for the Communications/Public Relations/Public Affairs Specialist position. Obtain benefits data by purchasing the entire study.
Click here
to learn more about the methodology of the study, the sample size, response rate, all the tables covered in the study, and more.
Order now and get immediate access to compensation data for this position organized by membership type, budget and staff size, IRS tax status, and more.
Note: This product is a downloadable PDF file. After your purchase, you will be presented with the PDF for download. You will also be able to access this PDF for 60 days from the date of purchase in the 'My Downloads' section of your ASAE & The Center web profile.
(2020, PDF, 5 pages)