Certification and Accreditation Law Handbook, 3rd ed.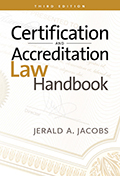 Product Information
Description
A comprehensive and user-friendly review of legal principles and rules that apply to private, nonprofit voluntary organizations that issue credentials, operate certification or accreditation programs, or are considering doing so.
Among other topics, chapters examine:
Antitrust
Administration/Risk Management
Confidentiality/Records
Due Process
Liability to Third Parties
The handbook includes 11 sample documents used most often by credentialing organizations. They can serve as starting points for organizations considering new credentialing programs or modifications to an existing one.
Whether you're operating a credentialing program or just thinking about starting one, you need to be aware of the range of relevant legal considerations. Use this guide to help you responsibly conduct your program.
(2016, 296 pages, soft cover)