Chaos for Breakfast: Practical Advice and Humor for Nonprofit Executives (An E-Book)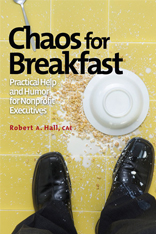 Product Information
Description
How to Know When It's Time Go. Murphy's Laws for Associations. Must There Be Metrics? How to Wreck Your Association in Only One Year. 10 Rules for the Care and Feeding of Volunteers.
From tongue-in-cheek musings to straight-ahead advice, it's all here in this collection from an exec who has been there, done that, and earned his stripes. Go ahead. Have a little humor with your breakfast.
Get this e-book immediately and save on shipping. Plus, you'll have an electronic copy to distribute a section of articles that the author and publisher has granted permission to distribute. This e-book is also available as a
softcover book
and is an ideal gift for staff, board members, and volunteer leaders.
A portion of the proceeds from each sale is donated to The Center for Association Leadership and the Orthopaedic Research and Educational Foundation.
(2008, 114 pages, ISBN 978-0-88034-291-9, downloadable e-book)