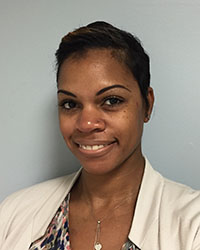 Tiffany Boykin
Manager, Operations
National Association for Medical Staff Services
With over 10 years in the association management industry, Tiffany currently serves as operations manager for SmithBucklin in their Healthcare and Scientific Industry Practice. In that role, Tiffany provides overall support to the executive director of a $3.1 million association of healthcare professionals and oversees projects related to the annual budgeting process, membership recruitment and retention and planning for the annual conference.
Tiffany was first introduced to associations during her studies in the nation's capital at The George Washington University when she landed her first internship at the National Association of Real Estate Investment Trusts. The important work of service inspired Tiffany to purse a career in the association industry after she received her degree from GWU. Not long after graduation Tiffany began a position with another local organization, the American College of Medical Genetics, where she served as their Membership Assistant.
Tiffany relocated to Atlanta in 2007 but continued her service as an association professional and joined the Financial Services Institute as an associate. There, Tiffany quickly mastered the progressing duties of her job and after four years became their director of operations. Realizing her affinity for the D.C. metropolitan area, Tiffany returned to the District where she began her career with SmithBucklin in 2012.
Tiffany's career has been dedicated to advancing the mission and goals of the association community and serving as a steward of leadership to those around her. She was an active member of a business fraternity Delta Sigma Pi, she is a former member of AmeriCorp and continues to service the community by participating in Days of Service.
Tiffany is currently pursuing her CAE designation and holds a Bachelor of Business Administration from The George Washington University.