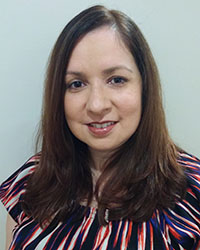 Norma G. Castrejon, MA
Assistant Director, Information Technology
Accreditation Association for Ambulatory Health Care, Inc. (AAAHC)
Norma G. Castrejon joined the Accreditation Association for Ambulatory Health Care, Inc. (AAAHC) in 2011 and currently holds the position of assistant director in the information technology department. In her role, she oversees all aspects of information technology projects from requirements gathering to implementation. She also acts as the primary liaison to external vendors and surveyors, as well as internal staff. She supports the accreditation process to ensure overall staff business needs and Board objectives are met.
Before joining AAAHC, Norma held various technical positions at the Illinois Institute of Technology, Trading Technologies, and Motorola. In her prior roles, she served as a systems specialist, an IT project manager, a software quality engineer, and a software development engineer. In those positions, she worked on various projects to meet the needs of internal and external customers.
Norma has been a member of ASAE since 2011 and is also a member of the Association Forum of Chicagoland and the Avectra Users Group. Outside of AAAHC, Norma is an active volunteer. She has been a mentor for the Chicago Scholars Program where she received a Mentor of the Year award in 2009. She is currently a board member of her local school council, has co-chaired various fundraisers at her local elementary school, and is the web administrator for the parent-teacher organization. She has been a primary liaison between the school's Bilingual Advisory Committee and its parent organization. She has also been an advocate at her local school for exposing computer science to their students.
Norma received her Bachelor of Science in Electrical Engineering from the University of Illinois at Chicago. She also has a Master of Arts in Educational Leadership from Northeastern Illinois University.