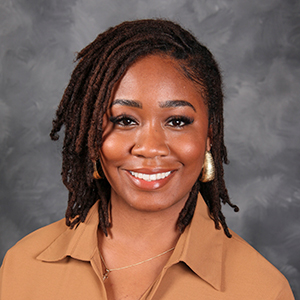 Eboni Russell
State Association Advocacy Manager
National Association of Convenience Stores
Eboni Russell is the state association advocacy manager of the National Association of Convenience Stores (NACS). NACS is a global organization, dedicated to advancing convenience and fuel retailing, and serves more than 1,500 retailer and 1,600 supplier members in over 50 countries. It represents an extremely diverse $650 billion industry—from retail organizations operating one store to those operating more than 20,000 stores—by providing knowledge, connections, and advocacy.
At NACS, Eboni maintains day-to-day relationships with 140+ state and ethnic community trade associations across the United States that participate in the NACS State Association Advocacy Program. The program, created to support regional and state associations that advocate for NACS retail members, provides resources to mobilize support and boost advocacy efforts at the state and local levels. The ultimate goal is to increase the long-term profitability and competitiveness of the convenience retailing industry. In her position, Eboni is the liaison between state and ethnic community association executives and NACS' Government Relations team as well as other NACS departments. Eboni also facilitates more than a dozen regional grassroots events (called Industry Update Luncheons) held each Spring, working closely with NACS President and CEO.
Before being promoted as the state association advocacy manager, Eboni was the NACS retail membership manager for more than three years and managed the organization's annual renewal process and retention efforts for 1,500+ retail members representing 90,000+ individual stores. Her collaboration with marketing led to a successful digital onboarding series for new and renewed members.
Eboni has more than nine years of experience in associations and non-profits. Prior to joining NACS, she was the director of membership for the National Association of Minority Automobile Dealers (NAMAD). During her tenure as director of membership, Eboni was responsible for the development and implementation of member recruitment, retention and communication. She also led a group of future automobile dealers in succession planning and career progression (called Next Gen). Her accomplishments at NAMAD garnered her The Network Journal's 40 Under 40 Award—an award that honors black professionals for significant contributions to their respective industries and professions.
As a self-professed "life-long learner," Eboni values professional development and continuing education and is enrolled in the non-profit and association management graduate program at the University of Maryland Global Campus. She has been a member of the American Society of Association Executives (ASAE) since 2016. Eboni is very engaged and has served as a peer reviewer for the Membership, Marketing, and Communications Conference and received the Association Management Certificate. Eboni also serves on ASAE's Young Professional Advisory Committee (YPAC) and participated in the 2021 cohort of the Next Gen Association Summit. In 2021, Eboni was a recipient of Association Forum's Forty Under 40 Award.
Eboni was born and raised in Fairfax County, Virginia, and received a Bachelor of Science in Sociology from Virginia Commonwealth University in Richmond, Virginia. In her free time, she enjoys delivering food to senior citizens for Zion Church of Landover's Food Pantry with her daughter and traveling.