Global Maturity Assessment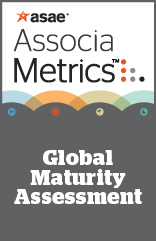 Product Information
Description
Use ASAE's Global Maturity Assessment annually to assess your organization's readiness and capacity for global operations against validated effective practice.
Based on ASAE Foundation research and hosted on ASAE's AssociaMetrics benchmarking platform, the Global Maturity Assessment guides you through 53 questions. Answer those, and get your organization's overall global maturity score, along with effectiveness scores in seven major global-readiness areas:
strategic and business planning
management and organizational culture
leadership engagement
market insight
value proposition and engagement model
global organization, roles, and support
local operations and service delivery capacity
You'll also get a concise report articulating the meaning of the scores, areas of success and opportunity, and links to supportive resources.
The Global Maturity Assessment was scientifically validated to ensure that it accurately captured the relevant constructs, met accepted standards for reliability and stability, and was a valid measure of global success. Questions were developed based on qualitative research by the ASAE Foundation and the MCI Group. All metrics were assessed using cognitive interviews, and the instrument was administered to 90 executives from associations at various stages of global deployment. The instrument was then validated using factor analysis to assess organization, Cronbach Alphas to assess scale reliability, and correlation analysis to ensure global maturity scores track with relevant success metrics, including satisfaction, growth, and problem incidence.
(2017, online tool, one assessment per purchase)