Board and CEO Roles for Achieving Association Goals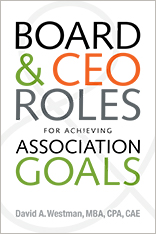 Product Information
Description
The crucial interaction between an association's board and staff, particularly the working relationship of the board chair and CEO, plays a huge role in how well an organization serves its members. In Board and CEO Roles for Achieving Association Goals, experienced CEO and consultant David Westman provides guidance that will help you maximize contributions from volunteers and staff, learn from colleagues, and get the most out of your legal counsel.
The key is to clearly define roles and assign accountability. Discuss potential gray or overlapping areas and determine how they will be handled before a difficult situation arises. Identify risks and manage them. Establish processes for board orientation and CEO onboarding. Document these roles and processes, and you and your organization can be more effective and face fewer surprises.   
Westman elaborates on these considerations and provides helpful exhibits, samples, and case studies. The goal and unifying message of the book is tying it back to the members and doing what's best for them. CEOs, senior staff, board chairpersons, board members, and others who share that goal can benefit from this book.
(2016, ISBN 978-0-88034-384-8, 256 pages, paperback)