10 Lessons for Cultivating Member Commitment: Critical Strategies for Fostering Value, Involvement, and Belonging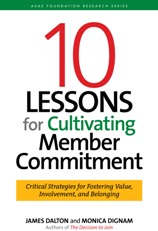 Product Information
Description
How individuals determine value is a deciding factor on whether they choose to join an organization. Yet, the extent to which members are engaged depends on their sense of belonging to a community--and the association's ability to consistently deliver value through the membership experience.
10 Lessons for Cultivating Member Commitment: Critical Strategies for Fostering Value, Involvement, and Belonging draws membership-strategy insight from key findings of ASAE research into what factors go into an individual's membership decisions. The critical decision to belong, rather than merely join, happens when that first-year member gets a membership renewal invoice--making the experience the individual has during year one critical. Using data from more than 22,000 individuals' responses, this book shares the overall perceptions of the value associations provide, the environmental conditions that most affect members' expectations, the benefit of clear and compelling membership benefits listings, and more. Most importantly, it identifies the key lessons that are essential to membership-development strategy.
Leverage each staff and volunteer position within the organization to help get members to respond "yes" to their next renewal notice. Motivate board members to customize their efforts cultivating committed members according to what those particular audiences perceive to be important, particularly when appearing to younger generations. Break down silos so that all program managers and committee leaders--and not just member services--are involved in delivering results. And, enlist your CEO to be a daily champion for membership retention efforts.
This book is a must-have for any association leader looking to better understand what influences someone's loyalty after joining an organization.
(2012, ISBN 978-0-88034-362-6, 68 pages, soft cover)