199 Ideas: Powerful Marketing Tactics That Sell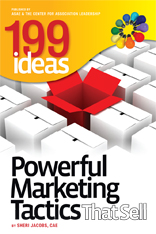 Product Information
Description
Marketing has changed. Members and customers are far more discriminating and are far less loyal. They are bombarded with messages from the moment they wake up and check their e-mail to the moment they turn off the TV and go to sleep.
If you are looking for powerful new ideas and market-tested tactics to break through the static, attract and retain members, meeting registrants, sponsors, or customers, this book is for you.
In this book, you'll learn
How to determine your competitive advantage or unique selling point.
How to write a subject line that will improve the chance that your email will be opened.
How to use emotion and logic to sell the intangible.
How to price your programs, products and services to increase sales.
How to build a fan base using both online and offline tools.
How to address objections and turn them into advantages.
How to select the best mix of marketing tactics that will most effectively sell membership, meetings, and more.
Praise for the book:
"Read and act on every bit of advice in this book. You'll get great new ideas and a refresher on classic marketing tactics."
--Andy Sernovitz, author, Word of Mouth Marketing: How Smart Companies Get People Talking
"Sheri Jacobs knows how to market associations. She shares her insightful knowledge in this must-read compendium of ideas on how to gain new members and keep them coming back."
--Jackie Huba, co-author of Citizen Marketers and Creating Customer Evangelists
Sheri Jacobs reminds readers that one word has the power to improve and transform communication. So does one book. 199 Ideas: Powerful Marketing Tactics That Sell is a must-read for today's association professional. It provides a concise collection of sensible and savvy tips ranging from print to mobile media. Considerations related to generational preferences, career staging and member engagement are also effectively addressed. Jacobs offers practical solutions for cutting through the clutter of daily communication through effective planning and personalization.
--Steve R. Smith, Executive Director/CEO, American Academy of Hospice and Palliative Medicine
(2010, ISBN 0-88034-319-2, 64 pages, soft cover)