Food and Beverage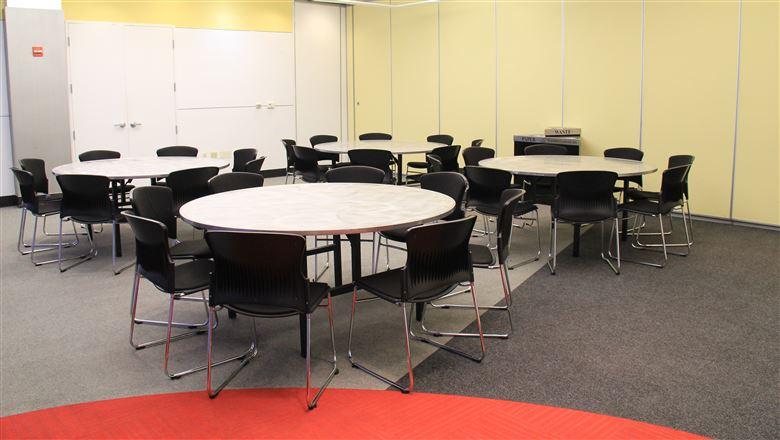 Select from Washington's finest caterers to service all of your food and beverage needs––including gluten free, vegan, non-vegan, and kosher meal options. All items are served buffet style. Upon request, china service and customized menus are available for an additional cost.
To ensure timely delivery and superior food quality, we do not allow clients to use outside caterers.
Breakfast
Menu Item

Description

Price

The Continental

Fresh from the bake house oven: assorted muffins, danish, palmiers, and flaky croissants, accompanied by our signature label jam, butter, and cream cheese. Also includes coffee, tea, and water service.

$8.50 per person

The All American Breakfast

The Continental platter with fresh squeezed orange and grapefruit juice.

$10.50 per person

The Parisian

The Continental platter with fresh seasonal fruit salad.

$10.50 per person

The Complete Breakfast

Includes the Continental platter with both seasonal fruit salad and fresh squeezed orange and grapefruit juice.

$12.50 per person

The New York Style

Salty Nova Scotia salmon, lemon wedges, capers, fresh dill, sliced Bermuda onion, sliced tomato and cucumber served with sweet butter, cream cheese and bagels.

$12.50 per person

Festive Fruit Display

Seasonal sliced fruits, grapes, berries served with luscious chocolate hazelnut sauce or fruity, refreshing raspberry coulis.

$6.75 per person

Assorted Pastry Buffet

A selection of homemade breakfast pastries, fruit puff pastries, cinnamon swirls, muffins, assorted Danishes and Italian breakfast focaccia, offered with a variety of low-fat items, jams and butter.

$8.50 per person

Deluxe European Breakfast

French butter croissants, chocolate croissants, fruit filled turnovers, Swiss almond cream squares, English scones and European sausage kolache rolls; served with butter and jam.

$8.50 per person

Bagel Bar

A selection of fresh baked bagels served with fruit spreads, plain and flavored cream cheeses.

$7.50 per person
With Smoked salmon, tomatoes, onions and capers
$10.95 per person

Hearts Delight Breakfast

Selection of mini-sized tea breads, raspberry bars, cranberry-apple squares, granola cherry bars, bagels, low-fat mini muffins and melon slices; served with low-fat Neufchatel cream cheese and fruit spreads.

$8.50 per person
$10.00 per person with assorted yogurts

Banana Stuffed French Toast

Golden brioche and ripe bananas baked in vanilla batter; served with maple syrup.

$5.99 per person

Scrambled Eggs & Bacon (pork or turkey)

Scrambled eggs and bacon with slice fruit garnish.
$13.00 per person with assorted yogurts
Lunch
Menu Item

Description

Price

The Complete Lunch -

Our most popular sandwich tray service served on a variety of freshly baked rustic breads including focaccia, ciabatta, Italian flat bread and wraps with our homemade dressings. Selection comes with choice of side salad and dessert platter.

$18.95

Sandwiches

South street hoagie with cappicola ham, salami, provolone and our signature hoagie mix
Grilled chicken with tarragon mayonnaise • Roast beef and cheddar with horseradish dill
Ham and Swiss with honey mustard
Roasted turkey and havarti with lemon caper mayonnaise
Corned beef and coleslaw with thousand island dressing
Chicken salad dijonnaise
Roasted tarragon turkey salad
Lemon-pepper tuna salad with cucumber and tomato
Ham and brie with tarragon mayonnaise
Smoked mozzarella, fresh basil and plum tomatoes with garlic olive mayonnaise

$18.95 per person

Market Wraps

Capicola ham and mango chutney
Turkey barbecue with black beans and coleslaw
Grilled chicken verde with cilantro, tomato and red pepper
Roasted turkey with cranberry-orange mayonnaise
Pan fried eggplant
Smoked turkey teriyaki
Roasted vegetables and hummus

$19.95 per person

The Executive

Same as The Complete Lunch but with (2) choices of side salad & classic dessert tray.

$19.95 per person

The Sand "Wish" Bar

Select three different meats or vegetarian fillings, two cheeses, and one sandwich salad filling; accompanied by a choice of side salad and dessert tray. Served with a variety of fresh baked breads, wraps, focaccia, rolls, sliced tomatoes, lettuce, pickle spears, honey mustard, lemon-caper mayonnaise and creamy horseradish dill sauce.

Meat & Vegetarian Fillings

Smoked or roasted turkey
Imported ham
Corned beef
Bacon
Turkey pastrami
Roast beef
Deli pastrami
Genoa salami
Grilled red peppers and zucchini
Sautéed eggplant
Chicken salad dijonnaise
Egg salad
Roasted tarragon turkey salad

Cheese Fillings

Swiss
Smoked mozzarella
Provolone
Cheddar
Monterey jack

$20.50 per person

All American Boxed Lunch

Includes a choice of sandwiches plus your choice of side salads (pasta or fruit salad) whole fruit, potato chips, pretzels, assorted mini cookies, fudge brownies or toffee nut bar.

With One Side - $13.50 per person
With Two Sides - $15.50 per person
Sandwiches can vary, but please select same sides for each box Add $1.00 per box for full size sandwich

Salad Boxed Lunch

Select from Caesar, Garden or Greek salad
For meat option add chicken or flank steak
Includes rustic roll and a freshly baked cookie

Classic - $15.00 per person
With meat - $16.00 per person

Signature Side Salads

Garden
Caesar
Greek
Citrus Spinach
Mesclun greens with sugared walnuts and blue cheese
Tomato, basil and feta
Pesto Pasta Salad
Italian greens with balsamic marinated tomatoes and fresh mozzarella
Pasta primavera
Cucumber and tomato

$6.50 per person

Classic new potato salad, chipotle potato salad and coleslaw
$6.50 per person

Hearty Salads

Chicken sate: Grilled breast of chicken and fettuccine pasta with a peanut sesame dressing.
Marinated beef and Italian vegetables: Sliced flank steak with crisp broccoli, zucchini, red onion, mushrooms and vine ripe tomatoes marinated in a tangy herb infused oil and vinegar dressing.
Chicken fettuccine with dill: Chicken breast and fettuccine tossed with fresh dill, tomatoes, capers and mayonnaise.
Asian noodle salad with beef or chicken: Sesame noodles and strips of flank steak or chicken breast combined with crisp vegetables and a blend of Asian flavors.
Seafood and orzo pasta salad: Orzo pasta tossed with a zesty seafood mix of shrimp, sea legs, celery, onions and tomatoes, dressed in lemon mayonnaise with a hint of old bay seasoning.
Tortellini primavera: Fresh cheese filled tortellini pasta tossed with a variety of fresh vegetables in a red wine vinaigrette.

$19.50 per person (each selection)

Choose any two hearty salads accompanied by a fruit or garden salad for $23.50 per person 10pp minimum

Alfresco Platters

Salmon piccata platter: Dill poached salmon filets with a red pepper sauce.

$26.50 per person

Marinated flank steak platter: Flank steak seasoned in a ginger and garlic marinade, grilled to perfection with roasted peppers and sliced tomatoes, accompanied by a blue cheese sauce.

$23.50 per person

Lemon-oregano grilled chicken platter: Lemon and herb marinated chicken breasts, grilled and served with a creamy lemon-oregano sauce.

$21.50 per person

Combination platters

For variety you can combine salmon, flank steak or chicken.

$22.99 per person

Grilled vegetable platter: Grilled eggplant, zucchini, portobello mushrooms, peppers, red onion, yellow squash, and fennel drizzled with herb-infused olive oil and balsamic vinegar.

$6.29 per person

Fresh mozzarella and tomato platter: Vine-ripe tomato slices and fresh mozzarella cheese colorfully alternated and sprinkled with fresh basil confetti, served with a side of garlic basil dressing.

$6.29 per person

Homemade Soups

Roasted red pepper
Minestrone (vegetarian)
New England clam chowder
Chicken noodle
Gazpacho (May–September)
Served with assorted crackers

$6.50 per person
$52.99 per gallon, serves 10-12

Signature Pastas

Choose from any of the following: Includes a choice of side salad, dessert tray and crusty European bread.

$22.95 per person

Chicken Parmesan

Tender chicken breasts rolled in Parmesan and breadcrumbs, baked with our classic marinara sauce, topped with three Italian cheeses and accompanied by pasta and freshly grated Parmesan.

Baked ziti selections ~Pan serves 10-12

La Prima chef's classic with vegetarian marinara sauce.

Chicken Alfredo

Penne pasta sautéed with grilled chicken and broccoli, then tossed with creamy alfredo sauce, parmesan cheese, and fresh parsley.

Eggplant Parmesan

Thin slices of sautéed eggplant layered with fresh ricotta and mozzarella cheeses and tomato-basil sauce.

Pinwheel style lasagna

Three cheeses, beef and Italian sausage, vegetarian.

Classic layered lasagna

Spiced turkey sausage with spinach.

Grilled skewers

Marinated flank steak, shrimp, or chicken arranged on a large kabob with red and green peppers, red onions, golden pineapple and fresh mushrooms.
Two skewers per person with a pilaf of white and wild rice.

$24.95 per person
$29.95 per person includes garden or Caesar salad

Sweet Tooth Café

Our favorite dessert bars, including tangy lemon, chocolate brownies, walnut toffee, cherry crumble, caramel chocolate and peanut butter fudge.

$7.00 per person

Mini cookie and fruit tray

An assortment of our delicious home-baked cookies displayed with cubed seasonal fruit.

$7.50 per person

Miniature French pastries

Petit fours, cake roulades, rum balls, chocolate diamonds, cream puffs, napoleons and a baker's special.

$8.50 per person

Daniel's Apple crisp

Thin sliced apples with cinnamon streusel and toasted walnuts served warm or room temperature with whipped cream on the side.

$11.00pp

Leola's Pound cake

Select a choice of vanilla, lemon or chocolate, presented sliced.

$8.00 pp

Sweet Tooth Tray

An assortment of freshly baked chocolate chip, oatmeal raisin and peanut butter cookies, plus rich fudge brownies, toffee-walnut bars and chocolate and white chocolate mini Bavarian pretzels with additional "bakers choice" cookies; also available in mini size portions.

$7.50 per person

Assorted Cookie Tray

Freshly baked chocolate chip, oatmeal raisin, peanut butter, "bakers choice" and buttery tea cookies, select a flavor or a combination of all five, also available in mini size portions.

$3 per person or $28 per dozen

Jeanne's Ultimate Sweet Tooth Tray

An assortment of petite creamy cheesecakes, peanut butter fudge points, chocolate chip, oatmeal cookies, served with slices of melon, red grapes, and strawberries.

$9.00 per person

Natasha's Tantalizing Tart & Fruit Tray

Individual tartlets including lemon curd with pine nut, key lime, sour cream apple, cranberry pecan and chocolate nut with sliced melon and strawberries.

$12.00 per person

Sidney's Chocolate Extravaganza

Chocolate creations, including chocolate nut tarts, petite chocolate cheesecakes, chocolate filled cannolis, chocolate fudge brownies ,and chocolate fudge cookies.

$12.00 per person

Roy's Dolce American Tray

Americana and Italian favorites, including cannolis, chocolate dipped macaroons, petite cheesecakes, and chocolate pecan caramel squares.

$12.00 per person

Petite Cheesecake & Fruit Tray

Chocolate, marble and classic cheesecakes served with melon cubes, oranges slices, grape clusters, and strawberries.

$12.50 per person

Bryan's Strawberry Angels

Light angel food cake sliced and served with a citrus glazed strawberries and whipped cream topping.

$12.50 per person
Beverages & Snacks
| | | |
| --- | --- | --- |
| Menu Item | Description | Price |
| Bottled Juice | Individual orange, grapefruit, apple, and cranberry. | $3.00 each (based on consumption) |
| AM or PM Coffee & Hot Tea | Freshly brewed Columbian coffee service includes regular/decaf coffee, hot water and assorted tea bags. Whole milk, Half & Half, sugar, Sweet & Low, and Equal. | $1.85 per person ($50.00 minimum) |
| Bottled Water | | $2.50 each (based on consumption) |
| Assorted Soft Drinks | Diet and Regular assorted sodas | $2.50 each (based on consumption) |
| Individual Yogurts | | $2.50 each |
| Whole Fruit | | $18.00 per dozen |
| Fresh Popped Popcorn | | $2.00 per person |
| Granola Bars | | $24.00 per dozen |
Ordering
When placing catering orders, please order the quantity needed for your group size. Unless noted, all menus exclude beverage services, DC sales tax, and our service fee. All menu selections and prices are subject to change without notice.
To provide excellent customer service by guarantying delivery, we require 48 hours advance notice of guarantee increases, decreases, or cancellations.